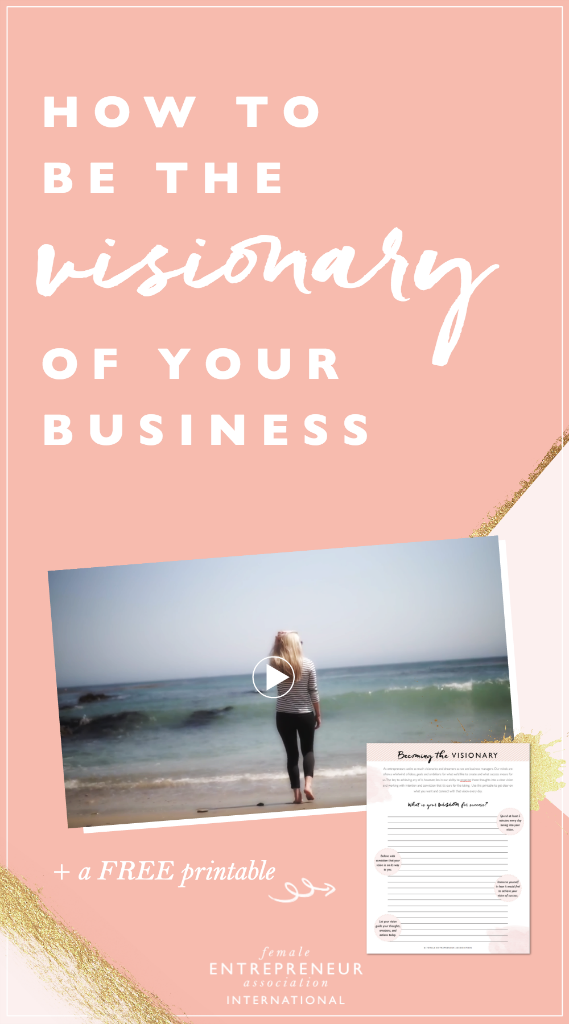 As entrepreneurs we're as much visionaries and dreamers as we are business managers. Our minds are often a whirlwind of ideas, goals and ambitions for what we'd like to create and what success means for us. The key to achieving any of it, however, lies in our ability to organise those thoughts into a clear vision and working with intention and conviction that it's ours for the taking.
But so many aspiring entrepreneurs fail to make the progress they'd like, simply because they only have a vague idea of their end goal, with no definite purpose and vision, which often means they end up stuck and going around in the circles.
Progress is difficult when you lack clarity and conviction of what you're actually trying to create and where you're heading.
If this is you, and you've been feeling stuck on a road headed nowhere, I made this video just for you. Watch it here>>>
I've battled this myself throughout my journey in creating the Female Entrepreneurship Association. At times I feel stuck in the mud, with no clear direction of where I'm heading. Whenever I feel like this I know it's time to take a step back, reconnect with my vision and my purpose and remind myself that I can indeed succeed.
Belief and confidence in your dream and your ability to make it happen is simply a state of mind which requires daily practice. Step by step and day by day, the vision expands and becomes more powerful, more detailed and more clear and the journey will become a much easier one to navigate.
To help you finetune your vision for success even further we've created this free printable for you. Download it here>>>

Let me ask you 3 questions to get the thoughts flowing and help you work on defining your ultimate goal.

What is your vision for success?
You'd be amazed at how many entrepreneurs don't know the answer to this fundamental question! It's something we all need to know with clarity in order to achieve it. Everything I have created was a clear vision in my head and I was mentally immersed in it long before it actually became my reality. FEA began with just a small idea and when I started out I had no clue how to make it happen. It was never easy, but rather than getting stuck in the challenges, I got of my own way and made sure I focused on where I was heading and how good the end result would feel. You have to be able to picture your future so clearly in your mind that the reality of it becomes inevitable.

Are you visualising the success you want to create every single day?
Taking a step back from your busy schedule seems counter-productive but connecting mentally and emotionally on a deeper level with your vision is key to staying on the right track and keeping motivation high. The more you do this, the more you will attract what it is you want into your life. We are all creators of our own lives. What we think about and what we feel is actually creating the reality we live in. We're manifesting stuff on a daily basis and we can do it more powerfully, effectively and intentionally if we connect with it and take small steps to get a little closer every day. If you don't focus on it , it will fall off your radar and you'll waste time on stuff you shouldn't be doing. Even if it's just 5 minutes every day, take that 5 minutes to visualize what it is that you're trying to create. Tune in with it and let it guide you.

Do you believe with conviction that this vision for success that you have is yours for the taking? Do you believe that you can really turn it into reality?
You have to get yourself in a place where you believe with absolute certainty that you can achieve your goals, that it's your destiny and your reality. If you don't, you'll create a space in your mind between where you're at and where you want to be. Feel like success is already yours and on its way into your life, you will be so much more likely to make it a reality. There are so many opportunities and there's so much for the taking for all of us in this world and we can achieve so much more than we give ourselves credit for, we just need to get in tune with that power and be more intentional about turning our thoughts into our reality.
Get clear on what you want, tune in with the vision every single day and believe with conviction that it's yours for the taking.
Do you have a crystal clear idea of what you're trying to achieve? What helps you stay connected to that vision? Let us know in the comments below!