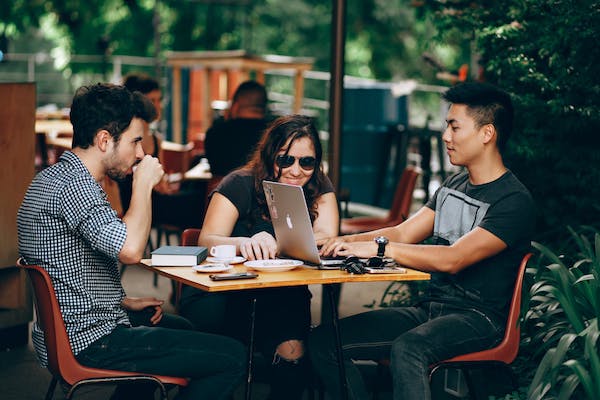 by Keith Johnstone, Head of Marketing of Peak Sales Recruiting
With the U.S. economy growing at a rate of over 4%, it is an exciting time for startups looking to scale up. It is also an ideal time for young professionals to secure outstanding jobs.
High-growth startups in the software sales space need to hire adept salespeople to be competitive. It can be difficult to charm these hopeful high-flyers when they are dreaming of industry titans like Google, Facebook, and SalesForce. The perks at the multibillion-dollar "Best Places to Work" are certainly seductive, including: onsite fitness facilities; one-year paid maternity/paternity leaves; paid time off to volunteer outside of work; even egg freezing and fertility assistance.
However, startups actually have advantages over big business when it comes to great jobs, an appealing culture, and enticing rewards. Here are ways for startups to compensate for, and even take advantage of, their smaller size to attract and retain recent graduates for sales positions.
Enticing Rewards.
The majority of college grads consider compensation (salary, benefits, perks) to be a key factor when considering job offers. Though this may create challenges for the startup, it is not insurmountable.
Know the market and ensure that pay and basic benefits will be competitive. Small companies often make the error of basing job offers on their budget rather than on market realities, thereby being slow out of the gate and less likely to compete in the race. If high ongoing salaries are a problem, consider a hiring bonus.
The perks that startups can offer might not be as over-the-top as from the big guys, but small and creative gestures can be just as tempting:
Support work-life balance: flexible hours; work at home options
Make non-work life easier: dry-cleaning pickup and delivery; transit passes; pet-friendly office
Provide small rewards: snacks on Friday; fitness memberships
Rewards that are personal and memorable can have a large impact. Consider the manager who learned that an employee was a race car enthusiast and decided to reward him with an opportunity to actually drive such a car. An employee might welcome the equivalent cash, but a unique experience linked to one of their personal dreams will buy appreciably more loyalty and devotion.
Great Jobs.
Beyond compensation, new grads are looking for development opportunities, the ability to have an impact, and job diversity. These are areas where the startup can shine.
At bigger companies, employees tend to be narrowly focused and their roles are less flexible. The startup's smaller overall population allows each job to have more depth and more impact on the organization. This usually leads to greater responsibility more quickly and opportunities for growth. The smaller company is also usually more flexible and more able to adapt assignments to meet employee needs.
Training programs or paid education can, of course, help employees to expand their capabilities; but serious consideration should be given to a formal mentorship program through which the more-experienced staff can coach and share experiences with new hires, readying them to play larger parts.
When looking for salespeople, understand that the job will vary greatly depending on the product or service being sold. Rather than looking for broad traits typically attributed to sales positions (e.g. outgoing, assertive, empathetic), identify the pertinent tasks your sales employees must perform and integrate those tasks into the recruitment foundation. This builds a better match for a longer-lasting relationship.
Appealing Culture.
A company's culture is an expression of shared beliefs (Change the world!), behavioral norms (Feel free to speak your mind), and the intangibles of how things get done. Whether by design or evolution, every company has a culture.
Startups and other small businesses are often less bureaucratic and more flexible, sometimes with a feeling of family, sometimes with an opportunity to share in the company's success. These can be desirable traits; however, the key is not to have the "best" culture, but rather to understand your culture and to pursue a good fit with new or prospective employees.
In hiring, culture is mostly about the image the company conveys. Publicizing your culture attracts people who could flourish in the company and curbs those who will likely be happier elsewhere. One study showed that college grads would accept a lower opening salary to work within a company culture with which they are personally aligned.
Retention and Turnover.
Staff turnover is expensive. The average annual turnover in sales positions is 25% to 30%, and replacement costs can be as much as $300,000 without even accounting for lost sales incurred while a new person is found and brought up to speed.
The first step in retaining new staff is ensure that what they see inside the company matches what they were told before hiring. New hires lured by a great story will quickly become disenchanted and depart if the story does not match reality.
The second step should be a strong onboarding program. This will demonstrate and reinforce the company culture, provide initial training in company tools and processes, and ensure that employees know what is expected of them.
Competition for top talent is always a trial, and being the smaller, newer organization on the street can feel like a disadvantage. Just keep in mind that startups offer real opportunities that big business cannot. Yours can be the offer that can't be refused.
Keith Johnstone is the Head of Marketing at Peak Sales Recruiting, a leading B2B sales recruiting company launched in 2006. Keith leads all marketing activities and has successfully grown revenue and lead volume every quarter. He plays a key role in driving Peak Sales Recruiting which leads the industry with a success rate 50% higher than the industry average, working with a wide-range of clients including boutique, mid-size and world-class companies including P&G, Gartner, Deloitte, Merck, Taser and others.

This is an article contributed to Young Upstarts and published or republished here with permission. All rights of this work belong to the authors named in the article above.